Happy Tubbing!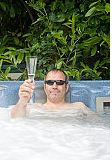 Enjoy your hot tub to the fullest!

If something is not working right, get any part or accessory for most brands of spas at Canada's TheHotTubSuperstore.com.
Need a replacement pump?, find out how to buy a hot tub pump.

Hot Tub Parts Canada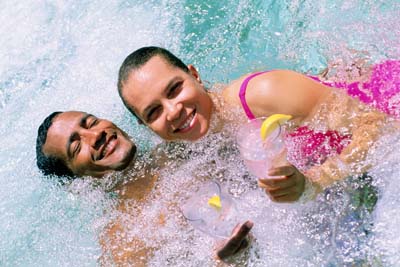 Hot Tub Spa Parts Canada Website takes the guess-work out of sourcing hot tub parts and accessories online in Canada. Also visit the Hot Tub Spa Parts Blog for troubleshooting tips.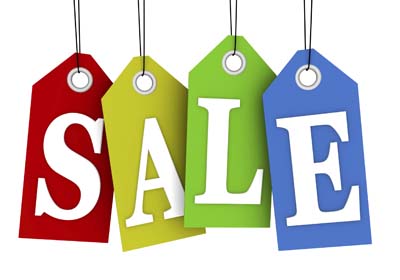 Need Hot Tub parts cheap right now? We scour the web and post wholesale and retail hot tub supply sources in Canada here as well as information for spa technicians and spa owners.

Spa Parts and Accessories
Popular hot tub accessories in Canada include spa steps, hot tub cover lifters, hot tub fragrances and safety rails.
LED lights are also a popular and fairly easy retrofit. The standard 12 volt bulbs can usually be accessed by removing a spa cabinet side panel where the light is located, finding the bulb fixture and following manufacturer's instructions on replacing the bulb. The hot tub LED light bulbs are made with exactly the same plug to fit the standard hot tub light socket and are also 12V.
Hot tub spa accessories also make great gifts for the hot tub owner and enthusiast.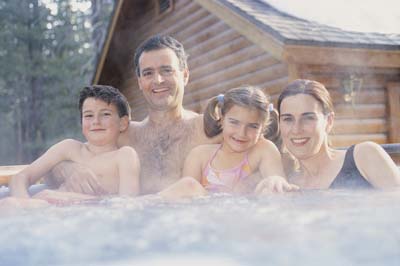 Spa fragrances are available in single serving scent pouches or in the larger liquid scent bottles that are made especially for hot tubs.

A floating am/fm duck radio or chemical feeder adds to the fun.
The new, environmentally friendly way to keep spa water safe and clean is by adding spa enzyme water treatment. Experience less chemical odour and smell while enjoying your hot tub more.
Be sure to keep your filter rinsed and clean. Replace the cartridge every year. Get the best prices on singles and bulk spa filters at Spa Filters Canada.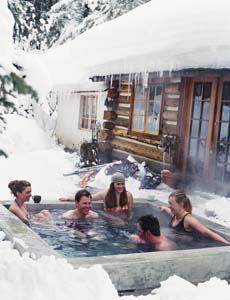 Finally the granddaddy of all hot tub accessories is the Canadian winter spa cover, a hard cover at least 4 inches thick that keeps the warm air in when the spa is not in use.

Enjoy your hot tub year round with the perfect spa accessories. 
You can source some of these spa accessories and hot tub covers in Canada online at Canada's TheHotTubSuperstore.com
Spa parts and accessories can increase enjoyment of the hot tub experience. From safety related spa accessories such as hot tub steps and cover lifters, to experience enhancing spa accessories such as hot tub fragrances and soothing music, create your own oasis and relieve tense and stressed muscles with regular use of your hot tub spa.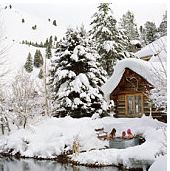 Canadians enjoy their hot tubs year round in the outdoors.
Keeping the spa not too far from a back door can also help increase the use of the spa even in the coldest winter months.
The heat of the spa water and steam helps keep you warm while you soak all your troubles away.
For any particular spa questions or to find a local or reliable online parts dealer, or even a whole spa for the cottage, send your email to info@hottubspaparts.ca.
Popular Hot Tub Accessories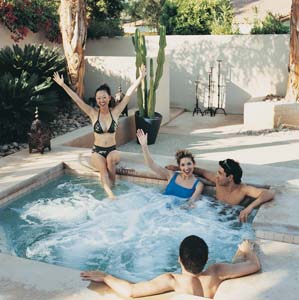 Counterweight spa pillows are available that simply hang over any side of the spa. Floating game boards, floating drink trays, floating cards and other hot tub toys are available as gifts. LED light bulbs are also a nice accessory that can help create ambience.
For safety, a spa handrail makes getting into and out of the spa easier and attaches directly to the spa cabinet for maximum safety. Hot tub spa steps are also a necessary item for safe entry and exit.
There are hot tub towel warmers to provide a warm towel after your tubbing. Other popular gifts include shatterproof drinkware so there is no glass breakage in or near the spa.   Add dishwasher safe plastic cups or glasses for a complete outdoor serving set.
What some spa retail companies don't want you to know:
Most portable spas are component based so they incorporate single spa components into the design, many times from the same part manufacturer across different brands of Hot Tubs.
Although the hot tub salesman in the showroom will try to convince you that their version of a spa is the ultimate and all of the others are junk, it is simply not the case since they use many of the same component suppliers to create their spas.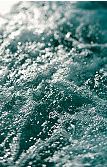 Certainly there is something to be said for quality control and workmanship, and that may be the biggest difference between all of the different spas out there on the market. But all spa brands have problems. In any case, when something breaks, the right part is usually just a mouse click or phone call away.
Whether you own a Jacuzzi, Sundance Spa, Hot Springs Spa, QCA Spa or Beachcomber hot tub, buying replacement spa parts and accessories online is an easy way to increase your enjoyment out of your hot tub spa.
Need help finding a part by phone? In Ontario, Canada call Scott at (800) 519-7695. He will help you get whatever part you need at the best possible price and ships any order over $200 free to you anywhere in Canada including heavy pumps and covers. Or you can email us at info@hottubspaparts.ca and we will do the searching for you.