Hot Tub Pumps Canada
Need a replacement Hot Tub Pump? Confused about the compatibility of various pumps on the market? Start here! Click through our step by step pump selector on the right.
Whether you just need spa pump parts or a complete replacement pump, knowing exactly what part you need will help you get it fast.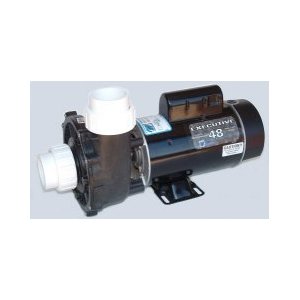 Specify Following When Ordering a Spa Pump:
SPA PUMP
pump speed (1 or 2 speed)
pump voltage (120v or 240v)
pump operating frequency (50 or 60hz)
pump horsepower (1.5HP, 3HP, 4HP, 5HP..)
plumbing size (usually 1 1/2" or 2" plumbing)
frame size (48 frame or 56 frame)
Hot Tub Pump Types:
STEP 1: Identify Type of Spa Pump
Submersible Pump
*see below
Spa Vac
Pump Parts
Easy Spa Draining
Hot Tub Pump Brands
Hot tub pumps are made by third party manufacturers. Some popular pump manufacturers for spas include Waterway, Aquaflo, Laing and others. One of the most popular Waterway pumps is the Waterway Executive 56 Pump.
Hot tub pumps within the spa are the main spa pump (either one speed or two speed), perhaps a secondary spa pump that controls the massage in a seperate group of jets for added power, a circulation pump or a spa air blower pump
Hot Tub Drain Pumps - Submersible Pumps
Sump pumps and other pumps that can be helpful for spa owners. The submersible pump can drain the water out of a spa in about 15 minutes or so compared to hours of waiting for the gravity type drains to dribble out of a garden hose.
The investment in a submersible pump is not only wise for spa retailers that show filled hot tubs at local fairs and tradeshows for a quicker tear-down, but for homeowners who want to achieve a water change in a shorter period of time.
This is especially important for homeowners in Canada and northern climates, where leaving the spa empty with remaining water in the lines can cause cracking of pipes and severe damage to the spa plumbing and components.
In addition to a submersible pump to drain all of the water, a wet-dry vaccuum can be used to remove remaining water from a spa while cleaning and between fills, or to help remove every last bit of water in each of the jet lines and plumbing lines if the spa is to be left empty over the winter in Canada or other climate that can have freezing weather.
A final hot tub accessory that is not a pump, but acts as one is the spa vac that can be used when the spa is full and typically attaches to the filter housing using the built in spa pump to create the suction for getting sand and other particulates off of the spa floor and in to the spa filter
We hope you find this spa pumps resource handy in helping to understand more about the hot tub spa options available today. Need to replace a hot tub pump? Start above on this page and identify which pump you need to replace.