Hot Tub Circulation Pumps
Need a replacement Hot Tub Circ Pump? Some of the most popular hot tub circulation pumps are:
Grundfos Circulation Pumps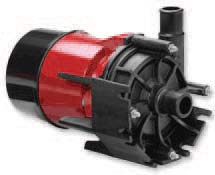 What type of Circulation Pump does your hot tub use?
voltage
horsepower
GPM/RPM
suction and discharge
"Circ Pumps" are generally smaller than the main pumps but these little guys usually run 24/7 to keep water circulating in the hot tub.
Circulation pumps are generally one speed and they are either on or off. Recirculation of the water allows for 24 hour filtration.
They don't save money on electricity as some claim, because the big pumps do the job in 2-4 hours that it takes these little guys 24 hours to accomplish, so there is no better filtration and there are arguments on both sides of the circ pump debate.
Circ Pump Manufacturers and Brands
Hot tub circulation pumps are made by third party manufacturers, not by the spa manufacturers (except Jacuzzi makes a circ pump too). Some popular circulation pump manufacturers for spas include Laing, Grundfos, Waterway, Jacuzzi and Pentair. See Circulation Pump Troubleshooting for more.
The Tiny Might has been found on countless spa models over the years and features long life bearings, a larger motor housing for improved cooling and a 3/8" motor shaft. Note that in many cases when sourcing a replacement circulation pump, neither the pump unions or the power cable may be included, so it pays to ask if you need these items.
The Tiny Might has made way for the Iron Might in cases where the Tiny Might may not be strong enough depending on the plumbing schema of the spa and other factors. When replacing a Tiny Might with an Iron Might Waterway circ pump, the unions need to be purchased seperately.
Care must be taken, that there is enough room in the equipment bay to accommodate the larger circ pump. Plumbing may have to be rerouted or moved slightly if there is minimal room which could complicate the installation.
Hot Springs put out their own branded Silent Flow circulation pumps for Hot Springs and Tiger River spas.
Laing also makes irrigation, solar pumps, self priming pumps and a host of other recirculating products. Currently available spa circ pump models by Laing include the E10 pump which is an energy efficient pump at 50hz or 60hz.
The Laing SM303N only needs 33 watts of power and is a small spa pump. The SM909 series is a 65 watt circulation pump with 15GPM capacity. A thermoplastic motor bracket is adjustable to four different discharge angles.
The larger SM1212 needs 140 watts of power. Laing says that life expectancy in general of circ pumps is about five years. The rotor or impeller is the only moving part of the circulation pump. Since that part may wear first, rotors can be replaced to fix a circulation pump and rotor repair kits are available online.