Pacific Spas Parts - Aber Canada
Pacific Spas were made by a Canadian manufacturer Aber Mfg. who went out of business a few years ago and left their customers with no support.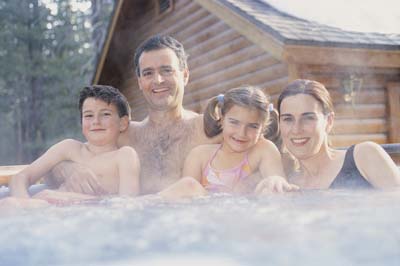 Fortunately, Canada's TheHotTubSuperstore.com has figured out which parts were used in the manufacturing of the Pacific Spas and offers them online.
The 2-speed spa Pacific Spas pumps sometimes had 2 1/2" connectors on both sides (so they would measure about 3 1/2 inches outside diameter). These huge pumps are still made and easily replaced. You can even get these heavy pumps shipped to you with free shipping when ordered online.
Aber made some of the most expensive spas on the market but did not sell that well it seems. The Pacific Spas brand out of Surrey B.C. left some good spas in the field without support. Other Canadian spa manufacturers in British Columbia include Coast Spas and Beachcomber.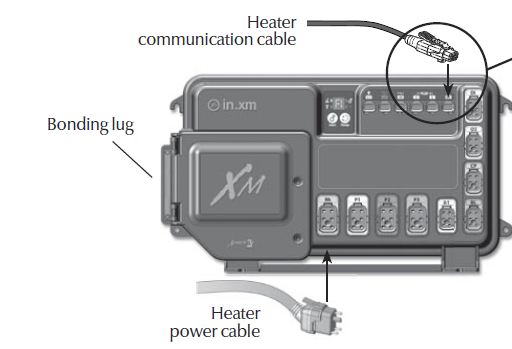 Pump connectors for these systems hooked up to a Waterway 2" or 2 1/2" union.
Heater (in.therm) communicates with spa pack via the heater communication cable in addition to the heater power cable.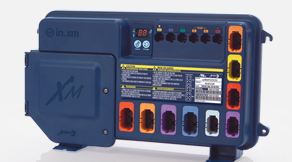 Pacific Spas Error Codes
When there is an issue with Aber/Pacific Spas electronics, sometimes the problem can be determined from the error code on the topside control panel. During an error, both the device identification (such as SP for spa pack) and the error code alternate on the panel.
If you need to replace the whole pak, get a complete IN.XM Gecko Spa Pack for Pacific Spas online.
Gecko spa packs are designed to be waterproof. This means no water can come in contact with the circuit board and sensitive hot tub electronics. These paks are made in Canada.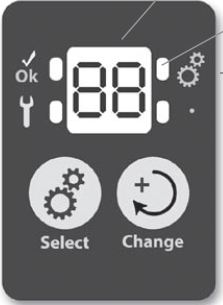 The colour coded output connectors are labelled and are for remote heater (red), pumps, blower and general purpose connections. Note that these are North American specs, in Europe the packs are slightly different.
Red connector is for the remote heater
Orange P1 is for Pump 1
Purple P2 is for Pump 2
Green P3 connects Pump 3
Red A1 General Purpose
Blue BL connects Blower
Green CP connects the Circulation Pump
Gray O3 connects to Ozonator
Orange Di is for Audio/Video devices
These packs use in.link colour coded connectors so wires can never be swapped.
Error Codes for Pacific Spas, Aber and other Gecko spa pack systems:
SP-HR is an internal hardware error
SP-BR input current rating selected is wrong because the sum of the current needed to run all pumps is greater
SP-IN low input voltage
SP-F1 The F1 fuse is blown that controls fan, blower, circ pump and fiber optic lightings
SP- F2 The F2 fuse is blown caused by pump 2, pump 3 or blower which is more than 5 amps
SP-F3 The F3 fuse is blown
SP-OT Temperature inside the spa cabinet is excessive so the internal spa pack temperature is in an overheat condition
SP-OH and blinking temperature means the spa water temperature is overheated (above 112 degrees F)
SP-HR internal hardware error, if restart and starting and stopping all pumps and blower does not solve, may need new pack
SP-BR incorrect input current settings. The heater may not work in this condition if there are not enough amps to run it
SP-IN input voltage issue
RH-NF The remote heater connection (RH) is identified with error code NF or no flow
RH-NC no communication between in.xm and in.therm
RH-HL high limit has tripped
There can also be P1, P2, P3 errors related specifically to pumps. A CP error is a circ pump issue.
BL errors are about the spa blower.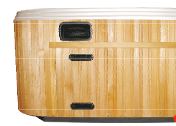 If there are pump errors, make sure the pump is connected properly and the spa pack can also be reset. Manually change output status (on/off) and cycle through low, high and off to try to clear. (to reset spa pack, press the Select key twice).
Note that if a pump error is detected, it may be in a 9 minute flow check cycle, so you may need to wait 9 min. to recheck.
Also note that if you replace a keypad with these systems, you need to reset the breaker for the new keypad (model in.k400 or in.k600) to be detected.
These systems use the remote heater which is a totally sealed enclosure with a 4kw heater and built-in temperature sensor. The heater measures 14.5"x5"x4"
ABER PACIFIC HEATER PROBLEMS
Need one of those trombone style heater used in Aber spas? There are many models available such as the 5.5kW Aber heater.
Find Pacific Spa parts onliine at http://www.thehottubsuperstore.com